We have a number of staff that assists each of our clients. Our staffs are welcoming and more than happy to help at any time. Because the Ipswich Women's Shelter is based on a feminist framework, the employees are all female. Many of our clients are more comfortable working with females as many have been through a fair amount of trauma.  We have a strong team willing to help clients with anything!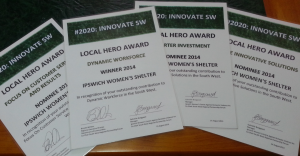 Manager
The Manager oversees the day-to-day operations of the service and reports to a Management Committee and various government departments.
Case Managers
Our Domestic Violence Case Managers engage with clients and give them the opportunity to talk about their experiences.  We aim to increase client's skills, knowledge and confidence while unpacking the effects of domestic violence.  Case managers provide assistance around health care and safety such as assisting with protection orders and other legal matters that arise when escaping domestic violence. WCSSI also collaborates with other community organisations to provide our clients the best opportunities available.
Accommodation
All Case Managers are trained around the barriers of accessing accommodation and will advocate for clients providing individualised, client-centered services.  We strive to provide resourceful information regarding safety, affordability and independent housing to ensure everyone has a place to call their own.
Cultural Assistance
WCSSI provides our First Nations people and Culturally & Linguistically Diverse (CALD) clients opportunities to talk about their experiences and provide scope to strengthen resilience, skills & confidence.  We collaborate with many cultural groups and provide a holistic service tailored to each client.  All staff are competent and confident in dealing with visa and immigration issues.
Children
The Case Manager's all provide children opportunity to talk about their experiences and provide support to those who are at risk in the family environment.  We also work with the child's mother to strengthen their relationship and advocate the child's needs.  We liaise with health care professionals, schools and day care to ensure the child's well-being and educational opportunities.
Music Therapist
Our music therapist plays a vital role in encourage children and building their self-esteem.  She teaches the children to cope effectively through music and lets them express their emotions and creativity.  She works closely with our case managers to ensure the children are able to adapt to new environment.
Counsellor
We refer clients to an external counselling service.
Administration
The Office Administrator assists the Manager with framework compliance, daily administration tasks and bookkeeping for the Service.  Case Management assistance is provided by the administrator as required.